Traditional Crafts and Skills
This is our listing of all our classes in this category, on the ones listed in the Current Classes Section are scheduled the rest are TBA.
Blacksmithing Basics
This class will be a 2-day beginners-oriented exploration of the various black smithing techniques useful in the creation of tools & crafts related to outdoor living skills. Through instructor demonstrations, visuals-aided lecture, and hands-on forging sessions, all students will experience and practice these techniques directly. The class will touch-on: basic hammer control, safe forging practices & guidelines, drawing-out material, fullering & spreading, tapering, rounding,  upsetting & heading, scrollwork, bending, shouldering, twisting, punching, and chisel-work.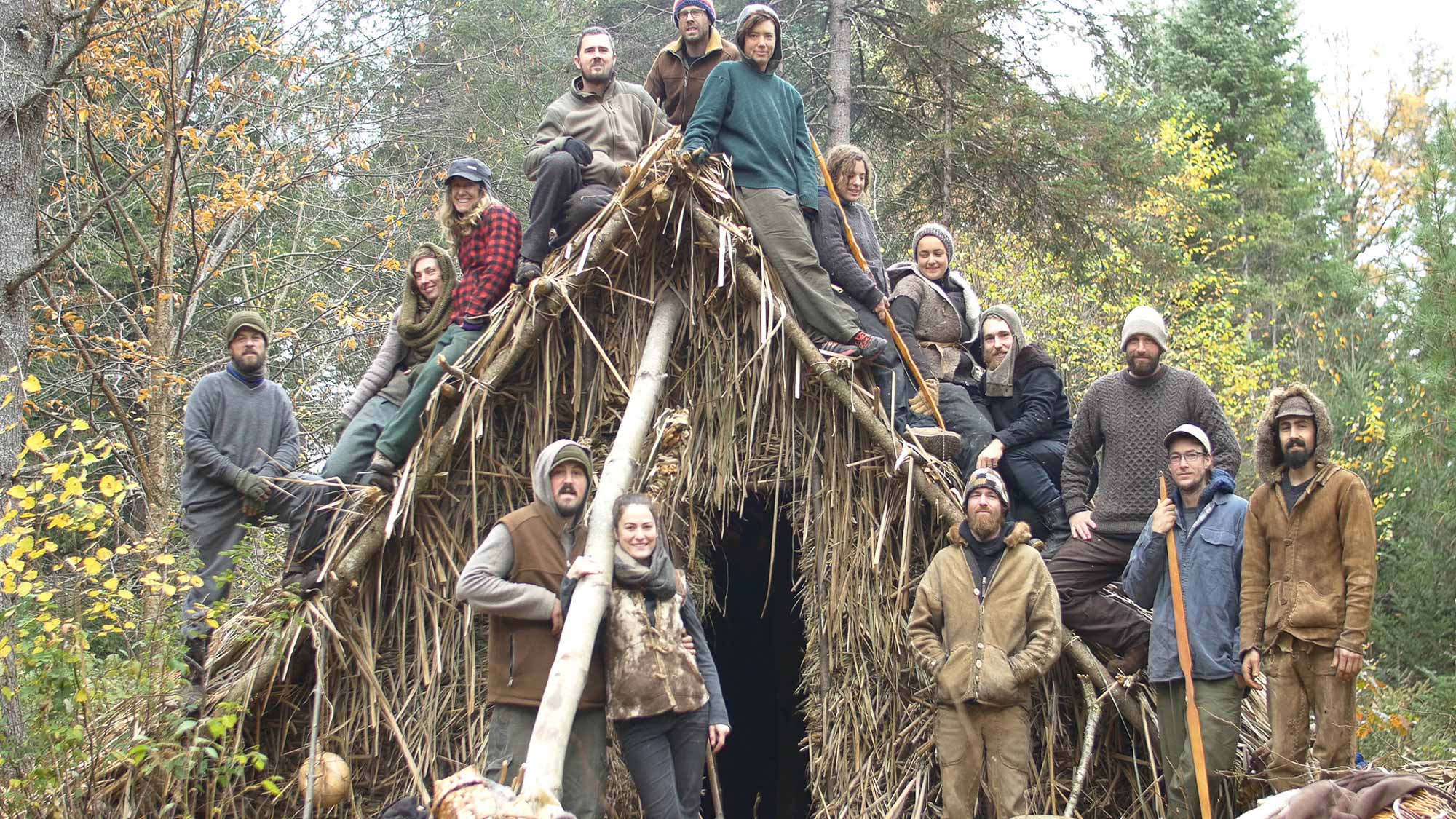 Origins
In this 9 month program students will learn to meet their material needs using stone tool technology and traditional skills. Build your own bow and arrows, learn weaving techniques, bone, horn, and antler work, soapstone carving, tracking, hunting and foraging, rawhide pack baskets, food preservation, animal processing and more!
Hide Tanning
For most of the Homo sapiens timeline on earth, humans have been transforming the skins of animals to meet a wide variety of material needs.  One such need is to provide one of the most basic levels of shelter: clothing.  These days the skills of leather-making remain a mystery for most people, regardless of how often we depend upon it.  In this 3-day workshop you will learn how to transform a fresh deer hide into soft, luxuriant buckskin.
Flint Knapping Stone Tools
Shaping rocks into beautiful and functional tools is a fun and challenging skill that has been practiced for over 3 million years! This course is a basic stone tool class for beginner and intermediate flint knappers. We will learn the basics of percussion, indirect percussion, and pressure flaking as our methods for reducing the stone. We will then look at the process involved for making hide scrapers, wood scrapers, saws, knives, blades, and projectile points such as arrowheads and spear tips. Tools and Materials are provided. Participants are welcome to camp right before, during, or after the course but food is not provided so please bring a bag lunch.
Bow Building
A four day class where students start with a stave and end with a beautiful and functional wooden long bow. During the class students will learn stave selection, bow design and performance, drawing and rough shaping, profiling, floor tillering, tillering, string making, and finishing. We also take a quick look at instinctive archery. Expect long days of hand tool use and a totally new understanding of wood.
Arrow Making
Traditional hunters often spent more time perfecting their arrows than their bows. In the act of hunting it is the arrow that delivers the killing blow, and its quality and precision are of the utmost importance. Thus, the process of building primitive arrows is an intricate art that is often overlooked. In this course we will cover shaft harvesting, preparation and straightening, pitch preparation, fletching and hafting.
Advanced Fire Kits
We will be taking a look at  bow drill, a fire by friction technique, and bring it to an elevated level both in material and technique.  To create a kit that is long term as well as beautiful we will craft a high performing flex bow out of Osage orange and peck a stone handhold that will never have to be replaced.  We will also take a look at techniques and various ways to troubleshoot and modify your kit so that you can be versatile as you coax fire from wood.
Raw Hide Craft
There are many ways to utilize an animals skin. One of the most easily accessible and useful techniques is crafting with rawhide. In this short one day course we will go over processing rawhide from a fresh skin and how to source materials. Then we will get into several approaches to using rawhide, from straps, to bags, to sheaths, to boxes and other containers. All materials are included.
Celts, Adzes, Axes, And Chisels - Pecked And Ground Stone Tools
Felling a tree, shaping a bow, digging out a canoe, and building long term shelter were all common practices to stone age people. Before metal axes and saws, primitive people had highly developed and effective stone celts, chisels, adzes, and axes. Through the process of chipping, pecking, and grinding, functional and beautiful tools were created by people throughout the world and throughout time. This process is work intensive, and requires patience and focus, yet the result is a tool fully primitively crafted, and ready to be put to work. Students in this course will have the choice to create one tool, but through that process learn how to create whatever size and type of pecked and ground stone tool they need.
Ancient Living Skills
The Ancient Living Skills course is built around the skills and material processes needed to thrive in long term survival or primitive living. Students will gain hands on experience with a wide array of materials and functional skills through a selection of projects such as: bone and antler knives, awls, and tools, advanced cordage, drop spindle and twined tump lines, raw hide and bentwood burden baskets, birch bark plaiting, pitch epoxy, soap stone carving and several smaller projects. This course presents a wide range of the primitive skills world. Through awareness, hard work, and ingenuity, we can provide for all of our needs with what the landscape offers first hand in our own region. The majority of materials will be local to Vermont.