Our Mission
In April of 2007, Roots School was founded with the purpose of educating people of all ages and backgrounds in:
Self Reliance and Wilderness Survival Skills
Wildlife Tracking and Naturalist Studies
Traditional Skills and Crafts
People, from all ages and walks of life love learning skills of self reliance, they love connecting to each other around good meals and campfires, and on the most basic level, they love getting outside. People leave engaged and alive, ready to continue learning and apply their skills in their day to day lives.
Roots Philosophies Of Teaching
We have several core philosophies running through our work in adult programs:
Tell You, Show You, You Do, You Show Me.  This is how we teach. This is how skill is built and information retained in the most efficient way we know. Come to our classes expecting to be given in depth information, demonstration, a chance to do, with your own two hands and mind, and finally to talk about what you have done, how it worked, and what you learned.
The more you know the less you need.  Skill development and useful information create a self-reliance and understanding of problem solving that is sadly absent from many modern people. Our students desire the ability to take care of themselves in a variety of situations and to be able to create multiple solutions given their resources. The more skilled a person becomes, the more skilled at learning one becomes and the easier it becomes for them to learn new skills.
Observations, Not Judgements. When in relationship to the natural world we very quickly find that we are not the boss. Our desires, ideas, ego, even our needs, do not change the reality of the natural world. We must adapt ourselves to it. We do not write the rule book. The cold does not care how you feel about it, it  simply is what it is. The natural world demands that we pay attention to it, that we learn its patterns and rhythms. We need to be able to remove our need to judge, and observe and act according to what our senses tell us. This is very important in interacting with the things that effect our environments both in survival, and in our day to day existence. With these eyes the destruction of our environment both locally and globally is clear, and the need for intelligent stewardship and protection of our environment evident.
This is Real, We are Real.  We strive to teach outside the realm of fantasy, outside of fiction, outside of grandiose plots. We do not claim our courses will fix you, or solve all of your problems. There is no safety belt to life. We teach to enrich, to fulfill, to guide experience, to allow people access to more tools.  We are all learning and growing, finding out more about ourselves. You do not get old until you stop learning.
Community is grown, not built. We are not trying to create a community, rather to be a part of the many communities we find around us. We have found that the strongest relationship are grown over time naturally, not conceived and directed. To that end we do our best to support a situation where people have a place to interact with others who want to learn the same things they do, to meet challenges together, to face discomfort or fear, and to triumph through unity. We do not however expect everyone to fit a mold, have similar world views, or to share their feeling in contrived situations. We strive to effect and strengthen the community of each of our students, as new information and passion for learning tends to spread, and knowledge and connection to land is powerful and vital.
Slow is Smooth, Smooth is Fast. To make skills useful, they must be practiced to a point of real returns, real proficiency. Training should be intentional and directed at long term gains in ability and understanding, not short term satisfaction and success. Students who acknowledge skills development as a long term process will garner the most positive results.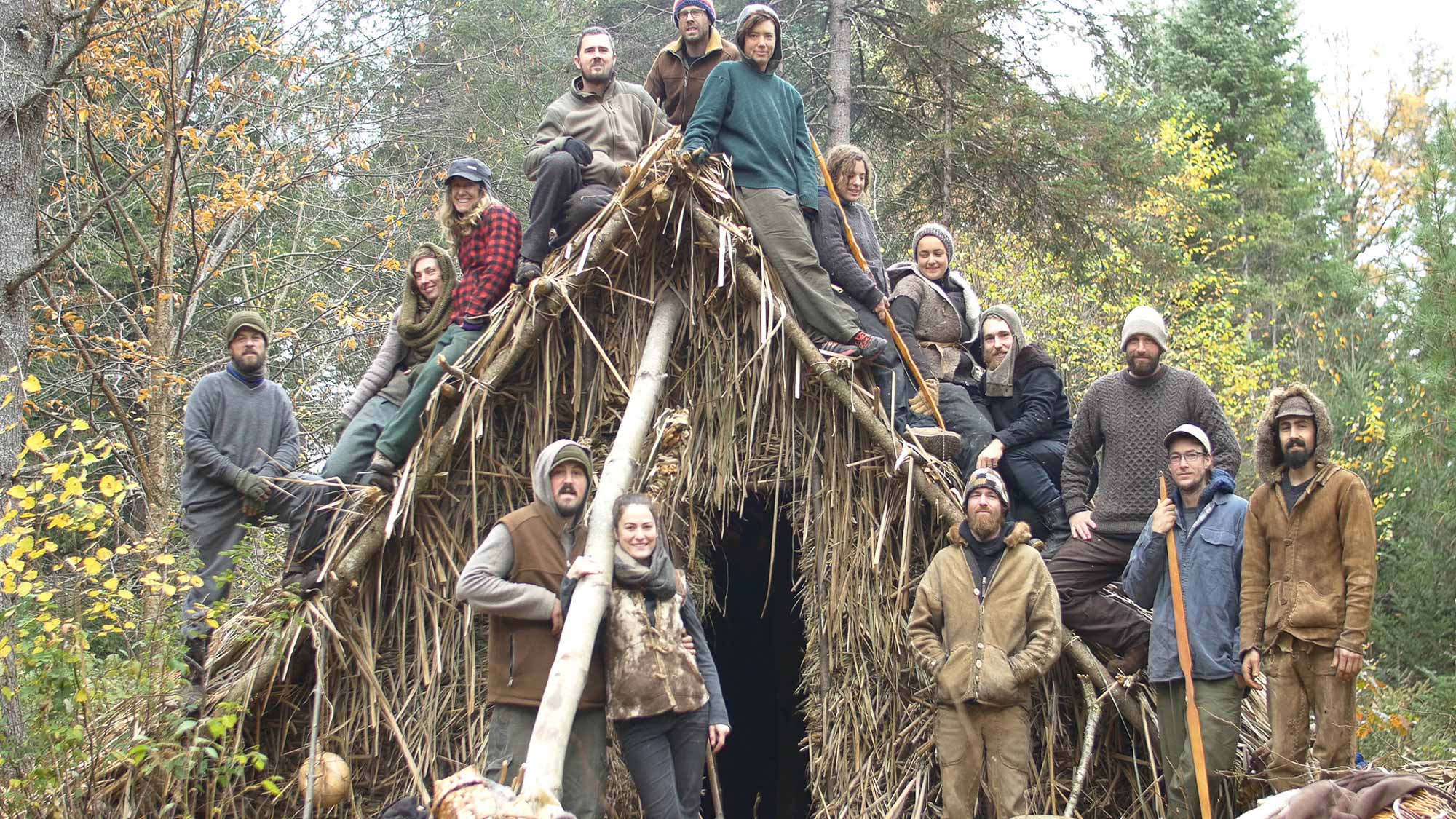 Are You Gonna Make Me Eat Bugs And Sleep In The Dirt?
No, at least not at first. In all seriousness, we want people to ease into the skills at whatever pace is comfortable. For some people, a warm shop for a basketry class is right up their alley. For others, they want to push their comfort zones and experience all the raw beauty and power of the elements and learn to adapt and thrive.
We have classes for both. Be sure to check with us if you are unsure. We never throw people into dangerous situations where they are in above their heads. Your safety and the strength of your learning experience are our main focuses.
Roots Courses
Our students can have certain expectations of our courses. First, our course sizes are limited, normally capped at 12-16 people. In doing so we ensure a staff to student ratio in which every student receives one-on-one instruction as needed throughout the course. Our small sizes also allow us to source quality materials and tools, open space on the land, and atmoshpere where you can get to know your classmates and instructors.
We have also committed to teaching from experience and through experience. Our courses are designed to set students up to apply our teachings in their lives. Skills must be learned by doing them, so we focus on the experience our students are having, on what they are doing at our courses as well as what they write in their notebooks.
We are not masters of these skills and in the scheme of what there is to know and experiences in our world, we know and have done little. We know that these skills do not belong to us or anyone, but to everyone. We work hard to maintain the integrity of the lessons that have been handed down through time, and the lessons the land itself has taught us.
In return we receive the honor of teaching and sharing something core to who we are, as individuals, and as a community. We get to move and work within our landscape, and
know it intimately. We are forced to continue learning, for and from our students. Ultimately, it is why we are here and we love it.
"Completing the Origins Program through the Roots School was easily my greatest professional development experience to date. Having studied as an architect and builder with strong interests in the origins of tool development and technology, Roots was able to provide me with invaluable hands-on immersion that allowed me to test notions of theory into practice.
I am also an educator and have been able to adapt these experiences and know-how successfully, and with positive outcomes, in the classroom. In a world of ever growing specialization these skills help me to stand out among my colleagues, and further have helped to develop my own voice and interests as a designer. Since taking the program I have advanced in my position at the workplace, due in no small part to the confidence I gained at Roots developing applied traditional skills and re-imagining them to my contemporary context.
The outdoor element of the Roots programming also helped develop in me a great awareness and sensitivity to the natural world that I have fortunately been able to apply through the lens of environmentalism and in a practical way by co-leading outdoor trips with my own students – – an aspect of education that I have only now been able to access. I highly recommend the Roots programs and instructors to anyone with interest in traditional skills, outdoor leadership, survival training, herbalism, and safe wild edible harvesting."
"I had looked into Roots years before attending my first class but for a while was too intimidated to sign up. As someone with very little experience with primitive skills or really any basic outdoor skills I thought I'd feel pretty out of place and wasn't sure I could hack it.
Finally a close friend who had been with the school since its start convinced me to check it out. Rendezvous was a good intro for me because it was a small committment and felt open-ended. I also figured taking a variety of small workshops offered at Rendezvous would help me choose my first full-length course. Nick's intro to Hide tanning did the trick! He made it seem approachable, even for an exceptionally OCD germaphobe like me. I got signed up the week after Rendezvous and have tanned three of my own hides since and have been to at least six additional courses. 
I credit the instructors at Roots with making me a more curious person. It's odd how much more interesting and exciting the day-to-day is when your mind is re-wired to look for new knowledge in what used to be routine. I walk away from each course at Roots with a beautiful product or a wealth of new knowledge and skills, but also with an endless list of questions. I look at my daily landscape with new eyes – What is this plant? How can I use it? Why is it growing here? 
It's what keeps me going back. Also, no matter the course subject, Roots has become an opportunity to get away, clear my mind, and unplug. Courses at Roots, are in all seriousness, my favorite way to vacation regardless of season."
"I really like how conversational and open your teaching style is. I feel like you treat the students like they're your friends, and you're always willing to answer questions. You never say, "that's in a different class", or anything like that. You also provide really honest feedback about the work the students do.
Your classes have given me a lot of practical knowledge in primitive skills that I've been able to apply independently, and have also provided me with the background knowledge to continue learning independently as well."
"Your teaching style is just my cup of tea. Detailed, informative, clearly knowledgeble but also laid back. You all have a genuine enthusiasm for what you teach and your skills are insane.
Yours was a genuine experience, with sound people where I felt like I was being taught to the highest standard by people who really knew their craft and who truly supported pushing the skills. You don't palm your students off with vague answers or flimsy delivery. You know what you're talking about and you share that knowledge generously from the moment the course starts to its end, even when the days are long, packed out with new skills to learn. I've never felt like there was any bullsh*t with you."
Angie, UK
"Finally made it up to Roots School for a primer in core skills this summer. Something deep inside of me has shifted as a result… Engaging with traditional skills reconnects me to my humanity. These skills provide a healthy level of challenge for mind, body, & spirit – and a very healthy dose of humility in feeling like an infant in a realm that is so fundamental to our existence (and yet so forgotten.)
Sarah and Brad are skilled facilitators who have been immersed in these skills and the subsequent lifestyle in a committed & consisted manner for quite some time… "walking the walk." They get out of the way and deliver the skills in the most clear, accessible, & honest way I could envision.
For anyone who's curiosity is piqued at these notions, I strongly encourage you to heed the call and take a basic course. It's one of the best things I've ever done for myself. Be warned though: you may want to drop everything else in your life and move out to the woods to flintknap and set up traps after you go…"